BAR® – Who We Are
Partners & Faculty
Tad Carducci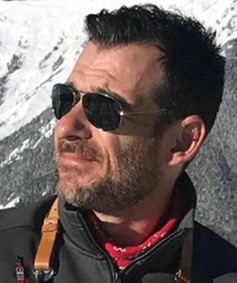 Tad Carducci is a lifelong bartender, award-winning mixologist, author, educator, presenter, drinks consultant and general bon vivant, with over thirty years experience in the hospitality industry. From 2018 to 2020, he served as the North American Brand Ambassador for Amaro Montenegro and now represents Gruppo Montenegro as Director of Outreach and Engagement.
Carducci was a founding partner of The Tippler, a cavernous cocktail bar under Manhattan's famed Chelsea Market and is the co-founder of Tippling Bros., a New York-based beverage consultancy which operated from 2008-2017. He is also the co-author of 'A Lime and a Shaker: Discovering Mexican-Style Cocktails', which was released in 2015, based on a decade spent as the consulting beverage director and cocktail creator the Mercadito Restaurant group.
Carducci is very proud to be a top-level graduate of the inaugural Beverage Alcohol Resource® Spirits and Bar certification program and has earned multiple certificates from both the Court of Master Sommeliers and the Wine and Spirits Education Trust. He is honored to sit on the judging panel for the Ultimate Spirits Challenge, created by Paul Pacult.
His work has been featured in Food and Wine Magazine, NY Times, NY Post, Bon Appetit, Esquire, Miami Herald, Chicago Sun-Times, Imbibe, GQ, Vogue, Details, W Magazine, TimeOut, Rachel Ray, Travel and Leisure, Conde Nast, Skiing, Mr. Boston and many other national publications, as well as on NBC's the Today Show, CBS Sunday Morning, Food Network, Cooking Channel, VH1 Big Morning Buzz, Sirius-XM radio, CW 11 Morning News, CNBC, Martha Stewart Radio and other media.
Back to Top