BAR® – Who We Are
Partners & Faculty
Steven Olson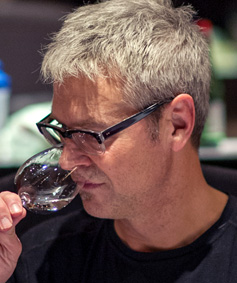 Steven Olson has been helping to shape the beverage industry for over 40 years. Getting his start in restaurants, he's gone on to be a writer, consultant, educator, and lecturer, and is particularly known for his pioneering work with Sherry, Spanish and Greek wine, Sake, Gin, and Agave spirits. His newest role as Global Mezcal Advocate / aka maguey geek / co-operating partner in Del Maguey Single Village Mezcal is a dream come true.
Over the years, Steve has hosted a few of his own TV series' and been a guest on many others,and has served as host of several trade education and product information videos, including being the voice of Virtual Bartender kiosks in retail stores nationwide. He also earned the title of Kikisake-shi (Sake Master) from the Sake Service Institute of Japan, was selected as Santé Magazine's Spirits Professional of the Year for 2003, awarded CHEERS Magazine's Beverage Innovator of the Year, a lifetime achievement award in 2005, was chosen to judge at the Diageo Reserve World Class Global Finals, and was honored as Best Bar Mentor at the Spirited Awards at the 2012 Tales of the Cocktail.
Olson may be best known to many, however, for his restaurant and bar consulting, having designed the innovative beverage programs and service systems for several nationally acclaimed operations, including the Relais Chateau, Mobil Five Star award-winning Mayflower Inn in Connecticut, New York City's #1 Zagat-rated restaurant, Gramercy Tavern, the Borgata Hotel Casino and Spa in Atlantic City, and the Adam Tihany-designed Summit at the Mobil Five-Star, AAA Five-Diamond BROADMOOR in Colorado Springs. Olson designed the beverage programs for OTG Management, which exclusively operates dozens of restaurants and wine bars in airports, designed the beverage programs for Aqua in Cancun, Mexico, the prize jewel of Grupo Posadas, which opened in 2008, and acted as beverage consultant to the Morgans Hotel Group in NYC with Isola and Hudson Common. Steve was also recently involved in the launch of VIK, a holistic wine from Chile with the promise of being one of the best wines in the world.
In March 2006 in New York City, Olson, along with four partners, Dale DeGroff, Doug Frost, MS, MW, Paul Pacult, and Dr. David Wondrich, started Beverage Alcohol Resource®, LLC (BAR®). Andy Seymour was added as a partner in 2008. BAR® is an independent organization whose mission is to educate, guide, and propagate the healthy, enlightened, and responsible use of beverage alcohol products. The school is in a unique position to create and teach a series of courses that will not just train, but actually educate those who take them, be they service industry professionals, members of the media, or curious consumers. BAR® was chosen as CHEERS Magazine Beverage Innovator of the Year 2007.
Back to Top