BAR® – Who We Are
Partners & Faculty
Kate Gerwin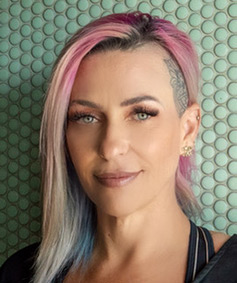 Kate Gerwin, a widely celebrated bartender and hospitality consultant, is well-known in the drinks industry for being the first woman and first American to win a global bartending championship for Bols Around the World Bartending Championship in 2014, but this is just one of her many worthy accomplishments. In her more-than-20-year career, Gerwin has been named by Drinks International as one of the industry's "Top 100 Most Influential Figures in the World" (2019 & 2022), she has worked as a certified advanced master sommelier for some of Napa's top wineries, consulted on the TV docuseries Bar Rescue, taught at the Le Cordon Bleu campus in Scottsdale, Arizona and the New England Culinary Institute in Montpelier, Vt.
And we'd be remiss not to mention, as she puts it, her "favorite crowning moment:" being inducted into the Tales of the Cocktail Dame Hall of Fame, which celebrates the contributions of hard-working people to the spirits and cocktail industry.
But it is her new distillery and cocktail bar, Happy Accidents, that she is most passionate about, specifically for the industry changing work they are achieving with a new "distillery bar" concept, enabling them to operate on whole new "post pandemic" level. Buying bulk spirits directly from distilleries, distilling in house, and acting as a blending facility, they have open the door to a myriad of possibilities and profits, enabling them to operate a more equitable company for their staff. Living wages, benefits, profit sharing and partnership are only the tip of the iceberg for this 100% bartender owned, industry changing operation which puts "staff first" in all operational decisions. They offer over 70 cocktails on the menu, all of which have base spirits uniquely designed for the cocktail itself. The bartenders have the freedom to adjust not only a spirits flavor profiles and ingredients, but even the proof of the spirits that they select for their libations. Not only is each cocktail carefully curated, but the spirits themselves are designed by each bartender to compliment the intended result. Full control from still to glass.
Happy Accidents, which is currently in top ten contention for the Spirited Awards "Best New American Cocktail Bar", is located in the Nob Hill neighborhood of Albuquerque, New Mexico. 
Back to Top