BAR® – Who We Are
Partners & Faculty
 

Karl Franz Williams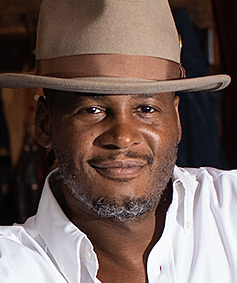 Karl Franz graduated from Yale University with a degree in electrical engineering, eventually shifting his electricity to hospitality where he is now a nationally recognized restaurateur. He began his career as a corporate marketer for the likes of Procter and Gamble and Pepsi, which helped him hone his skills as an expert at branding. His stint in corporate was well recognized; he won key industry awards (both a Reggie and an Effie award) and has also been honored as one of FOX Business's Young Guns, by Black Enterprise Magazine, and was the Wallpaper* City Guide New York Insider for 2012. 
A passion which started in conversation while working on an innovation project at Pepsi, ultimately led Karl to pursue opening cocktail lounges, eventually hitting his own mark and style, inspired by lost stories of African American culinary history and culture. In 2008, Karl opened 67 Orange Street (named after the last known address of Almack's Dance Hall the Iconic NYC Bar from the 1840s where tap dance was created). In May of 2021, 67 Orange received its highest recognition yet, when it was listed on Esquire Magazine's list of the 27 Best Bars in America. 
Karl's family hails from the stunning Caribbean Island of St. Vincent. With the desire to celebrate this heritage and the Caribbean's great spirit – RUM, Karl then opened Solomon & Kuff's Rum Hall – a five thousand square foot pan-Caribbean restaurant, rum bar, and lounge – located in the Manhattanville Factory District of West Harlem. 
In July 2016, Karl re-imagined the iconic New Haven Anchor Bar and Restaurant. Specializing in craft cocktails, the menu is pan-Caribbean. The New Haven Chamber of Commerce has recognized the Anchor for its creative concoctions and awarded the kitchen teams its Best Savory Dish Award. 
With his captivating and charismatic approach, Karl is a sought-after speaker and presenter particularly in the areas of mixology, craft bartending, and small business. He has been quoted in numerous articles in publications ranging from the Wall Street Journal, Crain's, and NPR, to SevenFifty Daily, Eater, Time-Out, Thrillist, and Wine Enthusiast. He has been featured by T-Mobile, FreePour, and the Spirits Network and at the Harlem Eat Up Festival, Tales of the Cocktail, Miami Food & Wine, and Charleston Food & Wine amongst others. 
Karl is a proud resident of Harlem, NYC, and a founding member of Harlem Park to Park, a neighborhood merchant association formed to help more local businesses succeed. He is also a board member of the NYC Hospitality Alliance, serves as an advisor and faculty member to the BAR 5-Day Program® (the leading spirits sommelier style course), and he is a Commissioner of the Town Green Special Assessment District in New Haven, CT. He is also a member of Alpha Phi Alpha Fraternity, Inc 
In 2021, Karl launched Uncle Waithley's Vincy Brew – a small batch, all-natural ginger beer with Scotch Bonnet Pepper. Only a few months since launch, it can already be found at Whole Foods Market and at select craft cocktail bars and restaurants throughout NYC. 
Back to Top