BAR® – Who We Are
Partners & Faculty
Doug Frost, MS MW
Kansas City, MO
Jack of All Trades, Master of Two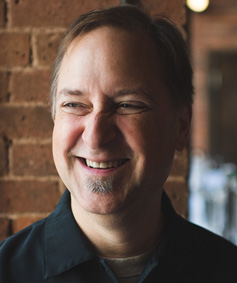 Doug Frost is a Master of Wine and Master Sommelier as well as an author and wine consultant based in Kansas City, Missouri. In 1991 he passed the rigorous Master Sommelier examination and two years later became America's eighth Master of Wine. He was the second person in history to complete both exams and more than a quarter century later he is still one of only three people in the world to have achieved both these remarkable distinctions. According to USA Today, "Frost likely knows as much as anyone in the world about how to make, market, serve and identify wines."
The Wine Spectator has bestowed the accolade of Master of Spirits on Mr. Frost. In 2006 Frost, along with partners Dale DeGroff, Steve Olson, Paul Pacult, Andy Seymour and David Wondrich created BAR® (Beverage Alcohol Resource®), a spirits and cocktail educational organization; Cheers Magazine selected BAR® and its founders as Innovators of the Year for 2007. Frost was awarded Beverage Innovator of the Year 2009 by Cheers Magazine. He continues to teach and examine for BAR® and within the Master Sommelier and Master of Wine programs.
His first book, Uncorking Wine, was released in the summer of 1996, and Frost's next book, On Wine, published by Rizzoli International, was released in the fall of 2001. The Washington Post called it "fabulous, witty, engaging and wise… conveys more accumulated wine wisdom than most books 10 times as thick." Frost's most recent book, Far From Ordinary: The Spanish Wine Guide, was released in October 2005; the third edition was released in 2011. He is currently working on his many contributions to the upcoming Oxford Companion to Spirits and Cocktails, due to be released in 2020.
Frost is a contributor to the Oxford Companion of Wine, Opus Vino, The World Atlas of Wine by Hugh Johnson and The Wine Report, an annual report edited by Tom Stevenson. He has written about wine and spirits for many publications including the San Francisco Chronicle, the Underground Wine Journal, Drinks International, Practical Winery & Vineyard, Wines & Vines, Wines & Spirits, Cheers Magazine, Sante Magazine, Hemispheres Magazine, Missouri Life, Fine Cooking, Epicurious.com, Le Pan, and the Kansas City Star.
Frost is the creator and host of the KCPT-TV hosted short series called FermentNation; the show has garnered two Mid-America Chapter Regional Emmy® Awards, in 2015 and 2017. His previous TV show, Check Please, Kansas City!, was also nominated for a Mid-America Chapter Regional Emmy® Award. He also appears as a featured judge on Public Television's The Winemakers, PBS's first nationally broadcast reality show. After a decade and a half Frost continues as United Airlines global wine and spirits consultant, selecting tens of thousands of cases of wines and spirits each year for service aboard the world's most important worldwide carrier.
He is the founder and director of the Jefferson Cup Invitational Wine Competition, a twenty-year-old national competition, is Head Judge and founder of the Mid-American Wine Competition, in its thirteenth year; he also runs the Washington Cup, an nine-year-old competition for American craft spirits.
He consults with many retailers, restaurateurs, wineries and distillers in the realms of marketing, merchandising, sales, education and sensory perception. Mr. Frost lives with his wife and two children in Kansas City, where he spends his spare time listening to his massive punk rock, vintage jazz and weird music collection.
Back to Top